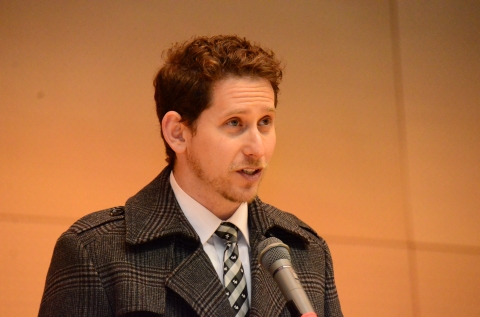 少し遅くなりましたが、ファレル先生から退任式の際のスピーチの原稿をいただきました。とてもいい内容なので、本校の生徒はぜひ原文のまま読んでみてください。
A few months ago one of my students came up to me after class and said, "I hope you're my teacher next year!" I wanted to say, "That's great! It's been wonderful being your teacher. I wish I could be your teacher next year too. But I'm sorry. I'm leaving Nagisa." However, it was a secret that I was leaving, so I could only awkwardly say, "Oh, ehh… Thank you!"
A lot of teachers left last year, so I'm sure I was not the only teacher with that experience. And I think I speak for all of us when I say, "It's been great being your teacher. I wish I could be your teacher next year too. But I'm sorry. I'm leaving Nagisa."
But before I stop being your teacher, I want to teach you one last important thing. It's related to the reason why I left Nagisa to become a photographer and writer. Last year the theme of one of the English speeches was, "be the best you can be." I always try to be the best I can be.
Being the best you can be is not just doing your best, it is being the best version of yourself that you can be with all the skills and interests and passions and opportunities that God gives you in your life.
It's not an easy thing to do, so I want to give you four pieces of advice. First, you can't be your best self if you don't know who you are and what you can do, so explore everything. Meet new people. Go to new places. Try new things. The more things you experience, the more you will learn about yourself. And when you find things that you love, follow them with all your heart; but at the same time don't completely ignore those things you don't like. They could be more useful that you can imagine. For example, when I was your age, being a teacher was the last thing I wanted to be. I wanted to be a pirate. But being a teacher has been one of the best things I ever did.
Second, be humble. People who think they know everything can't learn anything new. And if you want to be the best you, you need to have an open mind. Also, remember that you are only human. You will makes mistakes, but it doesn't have to be a bad thing. Make making mistakes a good thing in your life. Think of them as an opportunity to learn and to make yourself better.
Third, make being a loving person your standard for success. The more you can love others in keeping with your skills and passions, the more you will be the best version of you that you can be. But be careful, who you are will change over time. So when you change, don't be afraid to change your job too. My first job was cooking pizza. If I was still living in America cooking pizza today, I would have stopped trying to be the best I can be a long time ago.
Lastly, find God and make it your teacher for life. God is not what you think it is. It is not a statue at a shrine. It is not an old man in the sky. And it is not like Kai-o-sama from Dragonball. It is the thing that is the foundation of all reality. It the ultimate reason why gravity pulls you down, why light has a speed limit, and why we are all such amazing animals. And as a Christian I believe that you can actually have a relationship with that thing. I do. And it has been the most important relationship in my life. I really might still be making pizzas in America if it wasn't for God.
So go and discover who you are, pursue your passions, make mistakes, love the people in your life, don't be afraid of change and make God your teacher. "Be the best you can be."
Thank you.
God bless.